Swipe to the left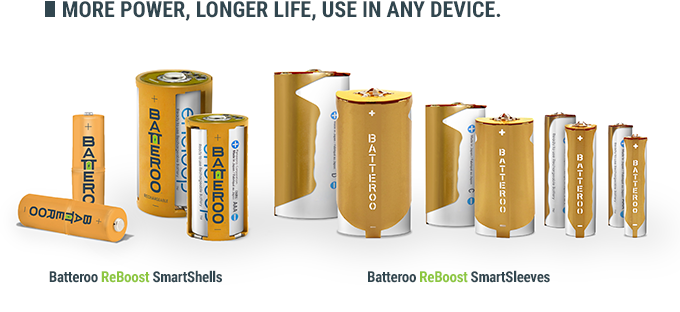 By Batteroo Inc.
1 years ago
659 Views
1 comment
Hello Dear Friends!
I have some exciting news! Do you remember one of the most common questions we received during our last campaign for Batteroo Boost was "Do these work with rechargeable batteries?" The answer then was no, because disposable and rechargeable batteries differ wildly in chemical makeup and how they work so Boost was incompatible with rechargeable batteries. But now, we have the solution for rechargeable batteries! Introducing Batteroo ReBoost!
Batteroo is proud to introduce our two new product lines, the ReBoost SmartSleeve and the ReBoost SmartShell! What's the difference? I'm glad you asked!
First, we have the SmartSleeve, which comes in AA, AAA, C, and D sizes. It works and looks similarly to the Boost, but it's for rechargeable batteries! You just slide it on your rechargeable batteries and insert the equipped battery into your device. However, despite the visual similarities to Boost, it serves different functions.
Rechargeable batteries aren't optimized to work with many devices. They are configured at a voltage of 1.2v, and most devices prefer 1.5v to work optimally. So the SmartSleeve boosts the voltage, similarly to Boost, improving performance! But rechargeable batteries don't have the same problem as disposables; they don't get thrown out before they get used fully, but rather they get ruined because they get used too much!
Many devices, when using rechargeables, don't know when to stop draining the battery! They will use the rechargeable until it has no juice, but this actually damages the battery! There is a threshold where the rechargeable battery shouldn't be used anymore and be recharged, but most devices can't tell where this threshold is so they will continue draining the battery past it, and the battery suffers. This leads to you only getting a few uses out of your rechargeable battery before they stop working! A lot of people don't like using rechargeable batteries because they stop working so fast. They don't realize that this isn't the rechargeables' fault!
The SmartSleeve has smart-circuit technology that shuts off the rechargeable battery once it reaches its threshold. This way your device never drains the battery low enough to damage it, so you can get more use out of your rechargeable battery!
The SmartShell is a totally new product; an innovative capsule that allows you to use your AA and AAA batteries in place of C or D batteries! The SmartShells are modeled to be the exact size and shape as standard C and D batteries, and then you put your rechargeable AA or AAA batteries inside and you can use it in C or D applications! We also include a AA shell that uses one AAA battery! There are other battery adaptors on the market, but the SmartShell includes the same technology as the SmartSleeve: boosts the voltage to 1.5v and turns off the capsule off once its batteries get close to their thresholds.
How can you get your hands on some of these? We are launching our kickstarter campaign on July 17th, a week away! To get more information, check out our landing page: https://www.batterooreboost.com/
In addition to that, we also have some exciting deals for the beginning of our campaign! We have 500 Special Early Bird Bundles for the first 500 people who claim them! This is only for the first 48 hours of the campaign, so you don't want to wait!Not only that, but all of our bundles are cheaper for the first week! After the first 7 days of the campaign they will go up in price, but we want to reward everyone who supports us early! You won't want to miss out on these deals! Sign up for our special email list so you get to be one of the first people who knows when we go live!
We hope you guys are as excited as we are! The Kickstarter campaign is only a week away! Help us share the news, so we can have a successful campaign together!
Best Regards,
Your Friends at Batteroo